In adherence to World Osteoporosis Day under the slogan "Strong women make women even stronger", the International Osteoporosis Foundation (IOF) prevention organizes a conference on Saturday 19 of 11 a 14 in the Paseo del Buen Pastor.
The International Osteoporosis Foundation (IOF) by the Provincial Council of Women, the Ministry of Health of the Province Cordoba Tourism Agency and organized for this Saturday 19 October between the hours of 11 a 14 hours, a day to raise awareness about women's health, in the Paseo del Buen Pastor.
During Saturday morning you Take care programs and Cordoba Cordoba Moves, seek Cordovan women aware of the importance of health care.
In the framework of Córdoba Care will be taken blood, be measured body mass index, and a nutritionist will provide food and care information. Also deliver brochures on health care, including Risk Test One-Minute Osteoporosis IOF.
From the stand of the Ministry of Health Promotion, be informed about the programs dedicated to the health of women as breast cancer, Cervical cancer, family planning and healthy eating, inter alia.
As, in the framework of Cordoba Moves will be a walk-aligned world day campaign osteoporosis "Strong women make women even stronger" and movement "White View the World Osteoporosis Day".
Besides the Dr. Christian Leiva, Medical Director La Posada del Qenti, give a talk on quality of life, nutrition and health of women.
Risks of Osteoporosis
The World Osteoporosis Day is celebrated annually on 20 October, and marks the beginning of an annual campaign dedicated to increasing global awareness of prevention, diagnosis and treatment of osteoporosis and related diseases. Led by the International Osteoporosis Foundation (IOF), mobilizes public opinion and awareness raising campaigns in over 90 countries.
According to a report from the IOF, estimated 200 million women are affected by this silent disease and recent data predict that fragility fractures due to osteoporosis, will double in the coming decades in Latin America.
In Argentina, are more than 34.000 hip fractures per year in the elderly population with an average of 90 fractures per day. While the life expectancy of women has grown, their quality of life is seriously threatened unless we take appropriate measures to protect their bone health.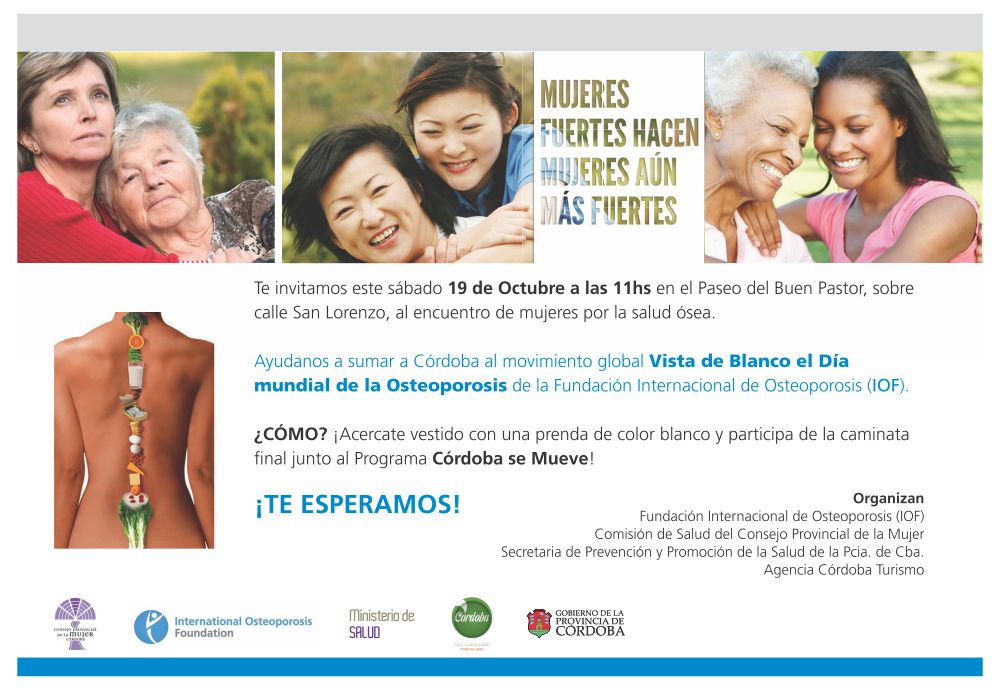 To know more: www.worldosteoporosisday.org