A report released by Euromonitor International (consulting firm dedicated to the study of consumption) shows Argentina is the country with the highest consumption gaseous, healing then follow Chile, viagra Mexico and the United States. Other studies show a steep association between increased soda consumption and growth figures obesity.
Every day we find great variety of gaseous, commercially available as sweetened beverages with gas, flavored waters, té to ingest frío, etc.. All these contain lots of corn syrup high fructose ( jmaf ) so that excess and daily intake predisposes an extra calories that over time will result in a significant increase in weight. A glass (200 cc) these beverages, contains between 20 a 25 grs. sugar bone between 4 a 5 envelopes of azucar per pot we eat.
While innovation in artificial sweeteners has reduced the intake of calories from regular soft, must not forget that also contain substances such as caffeine, phosphoric acid, artificial coloring, inter alia, that interfere with nutrient absorption; which makes a food of poor nutritional quality.
On the other hand consume such beverages decreased water intake, vital for the proper functioning of the body. Many soft drinks are promoted as "natural" and are not. It has been sweetened with a natural sweetener does not mean it has no other ingredients such as sugar ejemple, what does not a healthy food for one person diabetic, is why we suggest you read the nutritional label information of gaseous; pays more attention to sugar content and compare it to the grams of sugar having an envelope; Example: if a portion (200 cc) you have 22 grams is equivalent to that 5 sugar packets and 25 envelopes in a liter.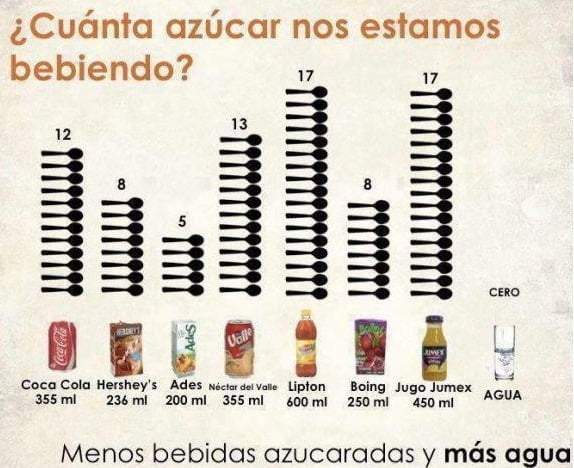 It is very important, in times of both heat, children and seniors (vulnerable groups) do not replace water consumption by soft drink and you're not not hydrate as water, generating a dewatering box.
Choose these drinks only occasionally, they are not part of the daily diet, moderate intake and avoid foster children consumption, would be great. When we repeat a behavior, over time this becomes habit, and in the case of daily consumption of soft drinks would not be this a healthy habit.
Lic. Del Boca Maria Soledad – M.P 1998
Obesity and Nutrition Specialist
La Posada del Qenti