When we know in advance that we will make a meal out of the ordinary (eating out, information pills Holidays, birthday, holidays, etc.) previously we organize daily feeding.
First of all , banish the idea of do not eat anything all day because at night I have a party, Otherwise we should respect all previous meals , taking care that they are more lightweight, very fluid intake throughout the day, with more fruits and vegetables and even a good strategy is to eat a snack before leaving (fruit, yoghurt, gelatin, a cup of broth, a large cup of tea with 2 Fetas fine cheese, etc.) not arrive with much appetite and to be moderate when eating.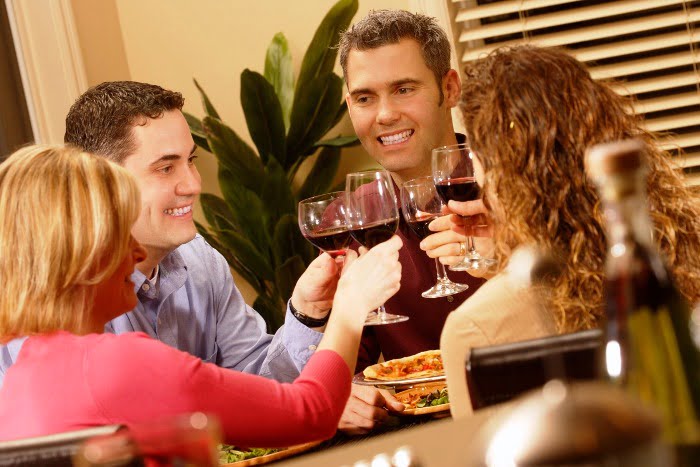 Tips to make healthier choices
In the restaurant we serve usual pastries based cream or mayonnaise to accompany classic breadsticks or rolls flavored. We will ask the waiter to remove them or eventually move away from our fingertips and we can ask them to bring the drink.
Moderate alcohol consumption because it has calories and also control what is lost is eaten. Set limits on the amount of advance, "Elijo take in but 1 from 2 wine glasses" , then ask for water, light soda or soda.
Then and according to your preference Choose between the following two options: Ask them to bring a dish Tickets or if more dulcero, dispense with the entrance and ask directly the main course and then a light dessert.
You can start with a plate of salad (palmitos with carrot; lettuce tomato and onion; arugula with tomato; celery, apple and walnut; beet and egg; grilled eggplant with onion and garlic) the 2 cheese rolls and 1 raw or cooked ham (this option has more sodium, eye if hypertensive), garnish with a few drops of olive oil and vinegar or balsamic vinegar to taste.
In winter time you can opt for a mixed vegetable soup, without adding or grated cheese a patty of meat or vegetables.
Note that the simplest is the least calorific.
As a main meal, prefer order dishes with lean cutss as: peceto, cuadril, back (pigeon) skinless chicken breast or fish. Accompany with a plate of grilled vegetables.
Alternatively 2 vegetable and ricotta cannelloni with fileto sauce without cream or cheese. Or a girl serving of vegetable lasagna. A boy with seafood paella dish.
If consumed input and / or main course more caloric or options preferred finish the meal with 1 from 2 glasses of champagne do not eat dessert, otherwise choose fresh and fruity desserts , Avoid creams , chocolates, dough and candy or syrup.
Some suggestions: Unsweetened fruit salads or unsweetened strawberries compotera, or a glass of melon, or a portion of ice water, fruit gelatin, a pudding without vanilla or sweet cream, 1 small portion of fruit tart.
When you attend a party or at Christmas or year-end, is rather moderate when sweet table remember that everything found there is highly hipercalórico. If you like sweet things not resist the temptation to try something, because this increases the desire. Find a guy saucer and put smallish portions chose what to eat (eye without overlapping…), this will be your "control zone". Eat slowly taking sufiecente time between one portion and another, savor and enjoy every bite (eye does not repeat ...)
After an outing or meal where we found several gustito the day or the next day , should drink lots of fluids especially water, hot or cold infusions ( to distribute,, to the Hierbas digestivas) bitter with the sweetener, wines glued. Having compoteras light gelatin alone or with pieces of fruit ready to eat in the refrigerator.
Schedule heading out for a brisk 1 hour minimum, and perform a detox diet with fruits and vegetables throughout the day. Example: Wines glued, infusions and gelatin Light in free form.
Breakfast and Snack:
Infusion (tea, mate, the decaf malta) con o sin leche + sweetener:
2 choosing fresh fruits in the jam
1 descr glass of yogurt. + 1 fruit.
Mid Morning and Mid-Afternoon (Cold or hot tea with sweetener to taste):
A Light compotera gelatin with fruit
A box of Baggio or Ades.
A cup of yogurt.
Lunch:
Hot + 1 soup bowl of raw vegetable salad with choice 1 cuch, oil dessert, vinegar and / or lemon to taste + 1 white of egg + 1 gelatina Light-
Dinner:
Hot + ¾ shallow dish with cooked vegetables 1 cuch. Oil melted dessert with a piece of cheese on thin 2 fetas ends + gelatina Light .
Area of ​​Nutrition of La Posada del Qenti