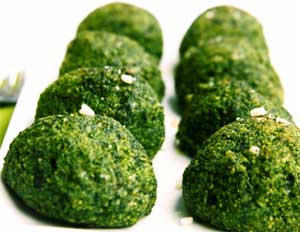 Performance: 6 portions.
Ingredients:
500 grs of cooked spinach, healing chopped and well drained.
250 grams of lean ricotta.
2 eggs.
Pinch of Salt, reduced sodium and pepper.
Nutmeg.
4 cdas of skimmed cheese grated.
1 cup flour + 2 cdas.
2 cups skim milk.
Vegetable spray.
Preparation:
Put in a chard bowls, the ricotta, eggs, Genser salt and pepper reduced sodium, 2 tbsp grated cheese and 1 cup flour. Mix to incorporate all ingredients well and form meatballs of 5 cm diameter approx. While, boil water in a medium saucepan. Reduce heat and keep at a gentle boil, start adding the meatballs and cook for 4 minutes or until they rise up to half the water. Remove with a slotted spoon and drain on paper towels.
Mix 2 remaining tbsp flour with milk. Heat over medium heat, stirring constantly, to boiling. Then boil 1 minute until thickened. Remove from heat and add the remaining grated cheese. Season with nutmeg and a pinch of salt reduced sodium and pepper. Locate the meatballs in a baking oven moistened with vegetable spray and cover with white sauce. Carry moderate oven until browning.
Nutritional Value
Carbohydrates: 2.5g
Proteins: 1.3g
Fats: 9g
Sodium: 370mg
Cholesterol: 4mg
Calories: 200
Vitamins: A fast they fast C