The roast, cheap Argentina typical food, becomes the delight of the people when choosing a menu that we socially, without realizing how many calories, consume fat and sodium in that election. Consider then a typical Sunday roast.
We started with a snack one hour prior:
4 the 5 olives
4 the 5 daditos of cheese Silver Sea
2 the 3 slices of salami
2 rodajas thin pan
A glass of good red wine of 200 cc.
Solamente this entry in a nutshell: 434 calories, 40 gr. fat and high sodium.
At the time of lighting the fire see how our roast consists, taking into account amounts to a diner:
1 Chorizo ​​bonbon
¼ sausage
200 gr. of Vacio semimagro
200 gr. of pork chop
150 gr. of creole salad (lettuce, tomato and onion)
1 boiled type mignon de bread
1 and ½ cups vino tinto of 300 cc
This appetizing roast has 1762 calories, 100 gr. of predominance of saturated fat and cholesterol, with a sodium content of over 700 mg.
With this example we note that our roast covers 100% of the daily calories for an adult with moderate activity (2200 cal.) with only a per diem since ingesta keep in mind el postre, afternoon tea and dinner that day .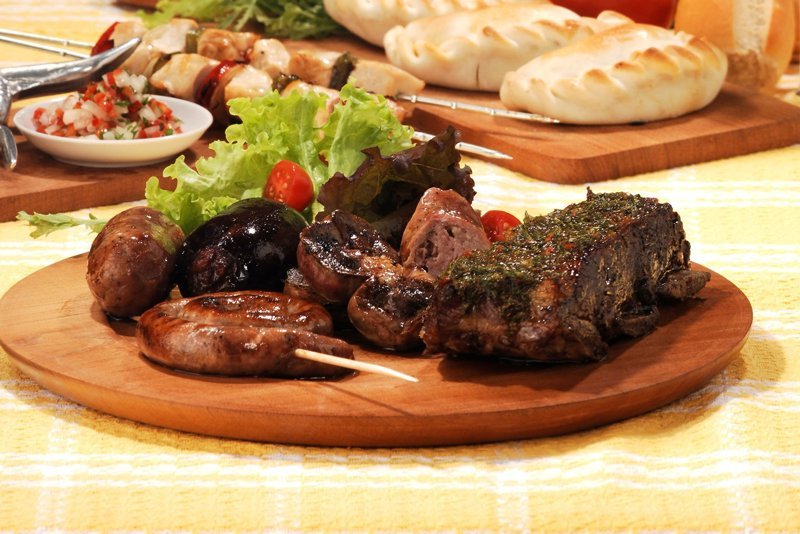 But let's see how we can organize our roast without many calories , fat and sodium. Our entry may have:
Casserole pickles of 30 gr.
Queso cream diet mixed with parsley and chives
Seasonings to taste, 20 gr. equals 1 Scoop heaping tablespoon.
Green olives 3 units
2 toasted gluten the 2 bran bread sticks
1/2 glass of wine tinto 100 cc.
This entry in the sum only 200 calories about.
When thinking about the grill, we must choose leaner cuts and not eat any offal. Another tip is to use the least possible amount of salt.
Option 1: tail of rump of 300 gr. with marinated chicken breast of 200 gr.
Option 2: roasted corvina of 300 gr. with 1 grilled trout of 300 gr.
Option 3: chivito or cabrito of 400 gr. with 1 Chorizo ​​bonbon
To accompany:
Portion of raw vegetables or grilled of 200 gr.
1 Mignon of pan
1 glass of wine of 200 cc.
Water or diet soda
Using any of these options add 1054 calories approximated, cover the 47% of our daily caloric value, lowering the levels of fat and cholesterol considerably .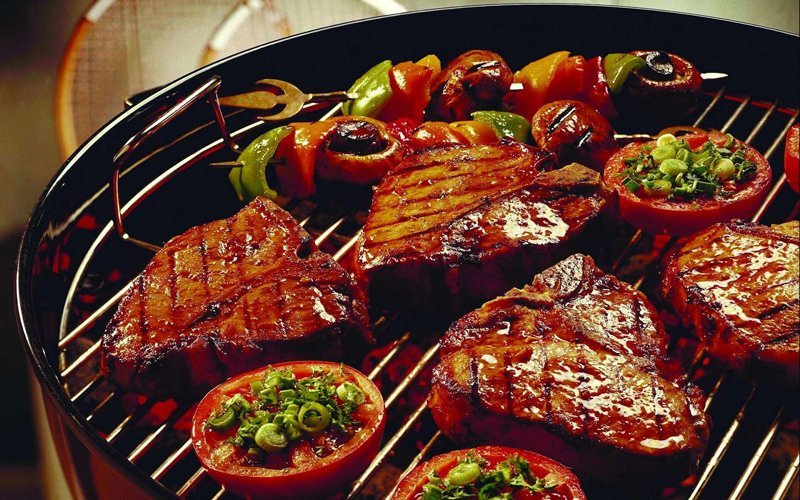 Garnish we can choose the typical creole salad or opt for grilling vegetables on the same grill. Another option is to cover plant (Eggplant, pumpkin, cebolla or zucchinis) with foil, previously spicy aromatic con hiervas y gotitas olive.
We can not ignore the famous provoleta roasted; cheese is very tasty but high in calories and fat, is not recommended in our lightweight option. Moreover, we avoid fries fittings, sweet potatoes with mayonnaise or roasted, these provide large amounts of calories and fat.
Another suggestion is to not use rich seasoning salt or sodium, mustard, salt, ketchup, but we can use the resource of vinaigrettes made of garlic, parsley, pepper, lemon, with a touch of vegetable oil, marinate a few hours before our steaks with this preparation.
If we replace part of diet drinks wine or sparkling water, avoid adding empty calories.
After a lunch and, the day we should drink plenty of fluids especially water, to the Hierbas digestivas, after 2 hours a walk, and eating fruits and vegetables until the next day.
Are we willing to live better and healthier? This weekend if you invite your friends or family, remember these tips.
Lic. Sandra Villarreal
Area of ​​nutrition
La Posada del Qenti