Considered "Intangible cultural heritage" Year 2010 by Unesco, This model is based on nutritional way to feed the people of the Mediterranean countries, mainly Spain, Portugal, Italy, Greece and southern France. Because of his high amount of antioxidants, fibers, Omega, and low in saturated fat, It is the healthiest nutritional model of the world. Several studies have linked the Mediterranean diet with Cardiovascular risk reduction, lower risk of cognitive decline during aging, improvement in the embryonic and fetal development, among other benefits.
Eating habits of these countries drew attention as lower incidence of coronary disease was observed in the northern European countries, then science custom check. Clearly, the development of food industry, increased availability and access to refined foods generated a gradual abandonment of such power and therefore a growth in obesity rates.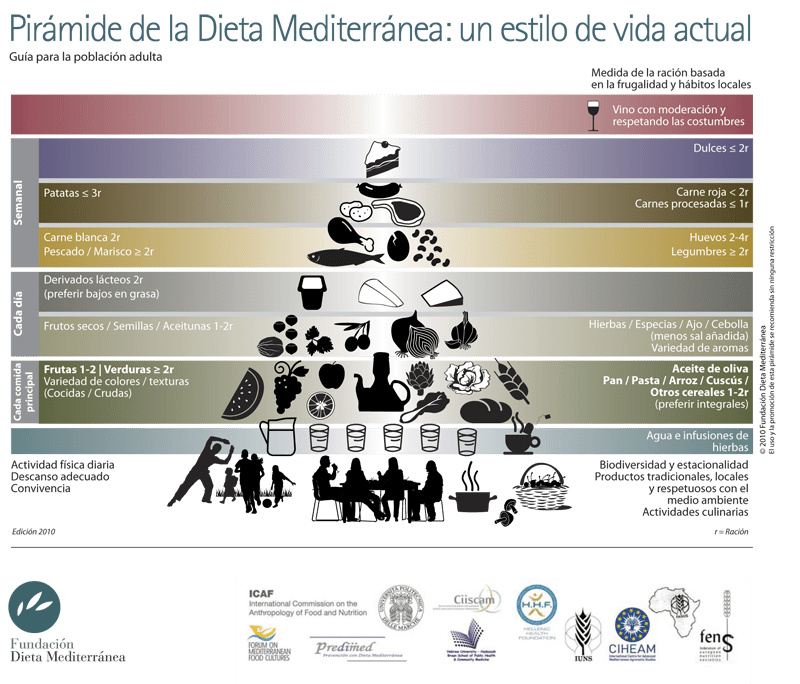 The main features of this type of food is the high consumption of fruits, vegetables, vegetables, dried fruits, fresh food, minimally processed, eating fish at least 3 times per week, lower consumption of red meat, olive oil as the main fat source, cereals and red wine in moderation; in this manner consumption of foods high in saturated fats (Animal), fried and sugar is minimal. Reducing the risk of coronary heart disease has been associated mainly to the daily consumption of monounsaturated fatty assets; as omega 3 blue fish and olive oil, and antioxidants such as anthocyanins and polyphenols present in red wine, lignans in olive seeds, fiber rich fruits, vegetables and whole grains, among other associations.
While several kilometers separate us from these Mediterranean countries, our land also offers these foods, not only for its taste but also for its excellent nutritional quality. The Mediterranean Diet is a "lifestyle" where food, exercise and tradition are words that join is towards a benefit to our health.
Lic. Del Boca Maria Soledad
Nutrition Area
La Posada Del Qenti
Ask our experts
[fc id='32' align='center'][/fc]