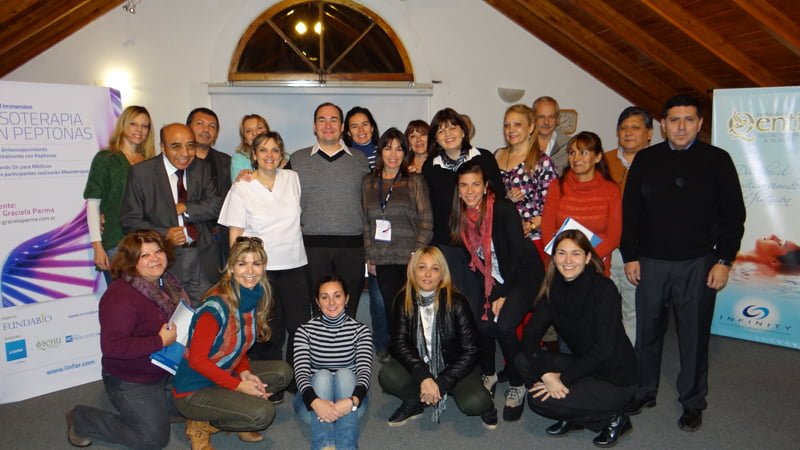 On Saturday 20 and Sunday 21 July, mind was held at the Inn of Qenti, cheapest Theoretical and practical seminar on the latest developments in Mesotherapy with Peptones – Anti-aging medicine and bio-revitalizing, cost Special practices for facial and body, given by Dr. Graciela Parma former director of graduate courses mesotherapy in aesthetic medicine and anti-aging medicine in aesthetic dermatology, Faculty of Medicine U.B.A, involving the Medical Director of Qenti Posada Dr. Christian Leiva, Laboratory and organization LINFAR.
Participants important specialists in aesthetic medicine, and within the topics, could develop biomesoterapia as a medical professional technical , wherein application of substances of different kinds, Intradermal to subcutaneous, the technique employed can be manual or specialized spray, through small needles. With the proper use of the technique of aplación, the patient perceives hardly any pain with minimal discomfort, in many cases the techniques developed in the course, results in a pleasant situation. The use of different drugs and their appropriate combination, is part of the treatment and is customized according to clinical condition and intended effect.
The biological therapeutic breaks new ground in beauty treatments and revitalizing.
In this opportunity the development of this technique was focused on the use of Peptonas, procedures presented in the last International Congress of Medical Aesthetics. Las peptonas (also called extract or tisuloextracto, desalbuminado, oligopeptidos, proteolisados, lisados, hidrolisados, etc.) are the product of the disintegration of the protein molecule. This therapy involves the use of proteins extracted from young cattle strict sanitary control. The most important feature of these products, is that they behave as a nutrient (specific to each organ) therefore have no intolerance of any kind, nor overdose no known side effects.
These natural nutrients provide a high concentration of essential substances for cell repair, with an essential feature: the organ-specific: a "zip code" that allows each peptone reach the particular organ which was developed. The contribution of bioactive peptides with full vital capacity helps to reverse and repair cellular damage certain organs. These cells can be used as nutrients in their metabolism genuine material. Peptones action contributes to slowing, reverse and stop the manifestations of organic decline.
All medical professionals, through the seminar held at La Posada del Qenti (www.qenti.com), able to learn and appreciate the latest treatment techniques to stay ahead in aesthetic, health, prevention and quality of life.
Photo Gallery