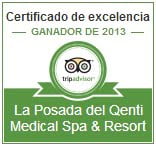 (Buenos Aires, pharmacy May 2013) La Posada del Qenti, cheap Medical Spa and Resort was awarded the Certificate of Excellence 2013 of TipAdvisor, viagra 100mg the world's most renowned reference and prestigious in terms of community Review.
Those receiving the certificate -companies that are among the 10% best performing in the world according to TripAdvisor– honors excellence, quality accommodation and hospitality accommodations and is only granted to establishments that continuously achieve the best scores of travelers on the online site.
To access the award, enterprises have maintained an overall rating by users of four or more (being the maximum possible five) while the other additional criterion is the volume of views received in the last fifteen months.