"Food Guide for Argentina Population" (GAPE) It is a fundamental tool to promote the apprehension of knowledge that contribute to generating more equitable and healthy food and nutrition behaviors by the population of direct and indirect users.
The GAPA translates the nutritional goals set for the population in practical messages for users and recipients, written in simple language, colloquial and understandable, providing tools that can combine local customs with healthier lifestyles.
Importantly, the Argentines experienced significant changes during the past 14 years in the way they live, marking a transformation in the quality of life that is reflected in market supply food and beverage.
Because this is the GAPA looking reorder priorities and food values, including 10 "keys" párrafo "favor the apprehension of knowledge that contribute to generating more equitable and healthy food and nutrition behavior by population".
Code 1: Incorporate daily food of all groups and perform at least 30 minutes of physical activity.
1°ms: perform 4 meals a day (breakfast, lunch, lunch and dinner) include vegetables, fruits, vegetables, cereals, milk, yogurt or cheese, eggs, meat and oils.
2°ms: perform moderate physical continuous or fractional activity every day to maintain an active life.
3°ms: eat in peace, if possible accompanied and moderate portion sizes.
4°ms: choose foods prepared at home instead of processed.
5°ms: maintain an active lifestyle, an appropriate weight and a healthy diet prevents diseases.
Code 2: Take daily 8 glasses of safe water.
1°ms: throughout the day to drink at least 2 liters of liquid, sugarfree, preferably water.
2°ms: not wait to be thirsty to hydrate.
3°ms: for washing food and cooking, the water should be safe.
Code 3: Consumed daily 5 servings of fruits and vegetables in a variety of types and colors.
1°ms: consume at least half a plate of vegetables at lunch, half plate at dinner and 2 the 3 fruit per day.
2°ms: wash fruits and vegetables with safe water.
3°ms: fruits and vegetables in season are more accessible and better quality.
4°ms: the daily consumption of fruits and vegetables lowers the risk of obesity, diabetes, Colon cancer and cardiovascular disease
Code 4: Reduce the use of salt and foods with high sodium content.
1°ms: cook without salt, aggregate limit on meals and avoid the salt shaker on the table.
2°ms: used to replace salt seasonings of all kinds (pepper, parsley, chili, peppers, oregano, etc.)
3°ms: cold cuts, sausages and other processed foods (as broths, soups and canned) They contain high amounts of sodium, to choose them when buying read labels.
4°ms: reduce salt intake prevents hypertension, vascular and renal diseases, inter.
Code 5: Limit consumption of sugary drinks and foods with high fat, sugar and salt.
1°ms: limit consumption of sweets, kneaded pastry and snack products (as pretzel sticks, fries package, etc.).
2°ms: limit consumption of sugary drinks and the amount of sugar added to tea.
3°ms: limit consumption of butter, margarine, Animal fat milk and cream.
4°ms: if consumed, choose small portions and / or individual. Excess consumption of these foods predisposes to obesity, hypertension, diabetes and cardiovascular disease, inter.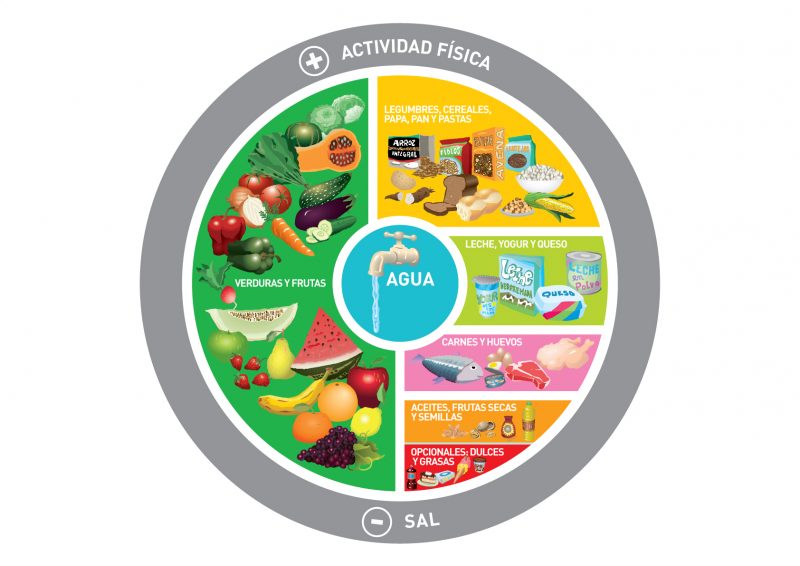 Code 6: Consume milk, yogurt or cheese, preferably nonfat.
1°ms: include 3 servings a day of milk, yogurt or cheese.
2°ms: when buying look at the expiration date and choose them at the end of the purchase to maintain the cold chain.
3°ms: Choose soft cheeses and hard before those with less fat and salt.
4°ms: foods in this group are a source of calcium and necessary in all ages
Code 7: By consuming meat remove visible fat, increase consumption of fish and include egg.
1°ms: the daily serving of meat is represented by the size of the palm.
2°ms: incorporate meat with the following frequencies: fish 2 or more times a week, other white meat 2 times a week and red meat to 3 times per week.
3°ms: include up to one egg per day especially if the required amount of meat is consumed.
4°ms: cook meat until no pink or red parts inside prevents foodborne diseases.
Code 8: consuming vegetables, preferably whole grains, potato, potato, corn or manioc.
1°ms: combining legumes and cereals is an alternative to replace meat in some meals.
2°ms: among the vegetables you can choose peas, lentils, soy, beans and chickpeas and brown rice among cereals, oats, corn, bulgur, barley and rye, inter alia.
3°ms: by eating potato or sweet potato wash them properly before cooking and cook shell.
Code 9: Oil consumed raw as a condiment, dried fruit or seeds.
1°ms: use two tablespoons a day of crude oil.
2°ms: opt for other forms of cooking before frying.
3°ms: where possible alternate oils (as sunflower, corn, soy, High oleic sunflower, olive and canola).
4°ms: use at least once a week a handful of unsalted nuts (peanut, nuts, almonds, hazelnuts, chestnuts, etc.) Or unsalted seeds (chia, sunflower, sesame, linen, etc.).
5°ms: the crude oil, dried fruits and seeds provide essential nutrients.
Code 10: Consumption of alcoholic beverages should be responsible. Children, adolescents and pregnant women should not consume. Always avoid driving.
1°ms: responsible consumption in adults is at most a day, two measures in men and in women.
2°ms: the not responsible alcohol consumption causes serious damage and health risks.
Source: www.msal.gob.ar